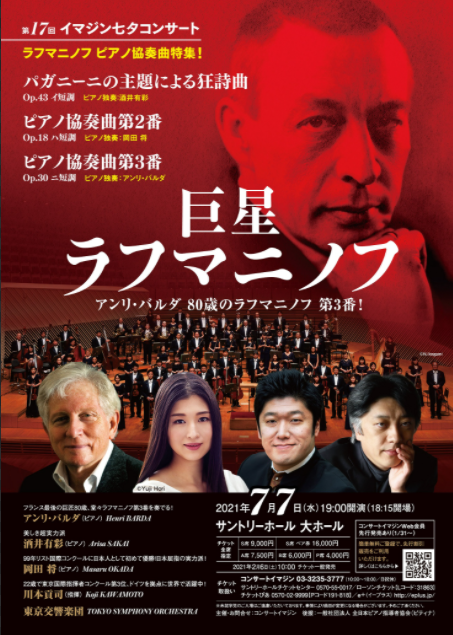 ​I went to a concert of Rachmaninoff's piano and orchestra works with three pianists at Suntory Hall. The orchestra was the Tokyo Symphony Orchestra under conductor Koji Kawamoto. The highlight of the evening was Henri Barda's performance of the third piano concerto. I had been worried before the performance that the 80-year-old veteran might not be able to play this long and difficult piece in a technically satisfactory manner, but I was completely wrong.
I don't think I have heard a piano concerto performance that gives me such pleasure. I was always thinking that a concerto soloist is the diva of an opera, and that her job is to bring out the best of herself. This performance reaffirmed that. Some pianists try their best to fit in with the orchestra, and some even appear obedient to the conductor as if they are part of the orchestra, but such an attitude does not convey the charm of the performer. Of course, the soloist and the orchestra work together to create the performance, but if the two are completely harmonized and integrated, what is the raison d'etre of concerto? In particular, with the thick sound of Rachmaninoff's orchestra, if the soloist is not unique, the sound of the piano will just be buried. I had a hunch that this was going to be an exciting performance when I heard the unison melody of the piano at the beginning of the first movement exuding an expression that defied convention. I was right.
One of the characteristics of Mr. Barda's performance is that it has a strong drive. The tempo tends to speed up just a little bit, which pulls the listener's heart along. This stimulates the listener's adrenaline. It also makes the delicate expression of the "piano" (weak notes) many times more attractive. There is a "density" to his touch that pushes it further than a physically balanced sound. Once you get hooked on this charm, it's hard to get out. Musicians express themselves through sound, and this unique sound is one of the main secrets of his performance.
This originality is what makes him so attractive. A person who has perfect balance is like a person who paints a picture that looks like a photograph. He cannot have any impact. Cézanne and Van Gogh have created a unique world that can be recognized at a glance. They have not chosen that style, but rather they are the kind of people who "can only paint in that way". Their individuality is what makes them irreplaceable, and we call that art. It was nice to hear a performance like Cezanne's instead of a photograph.